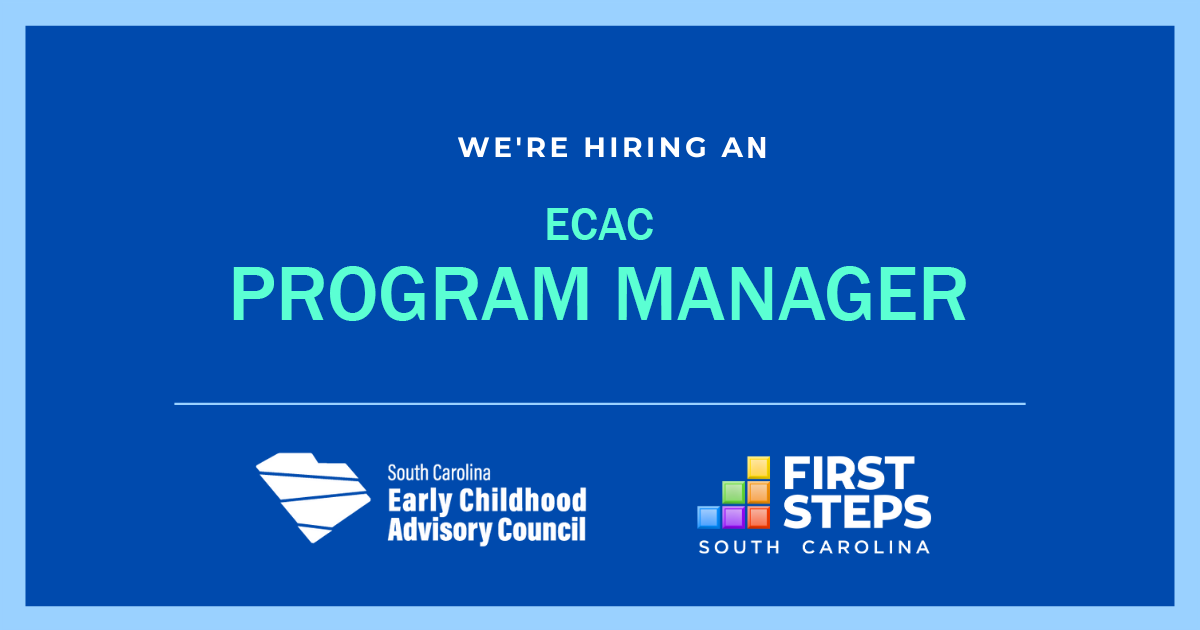 The SC Early Childhood Advisory Council (ECAC) is searching for a program manager to ensure that the Council fulfills its legislatively-mandated responsibilities by serving as the coordinator, connector and convener of early childhood stakeholders across agencies, levels of government, nonprofits and the private sector. Reporting to the executive director of SC First Steps and the ECAC and supervising a team, the program manager manages grant-funded activities, provides information about the early childhood state system to policy-makers and leaders, and facilitates and monitors progress toward state early childhood system goals and strategic plan development and execution. The position will be based in Columbia, S.C. Letters of interest should be emailed to HR@scfirststeps.org.
Responsibilities and Duties:
Manage collaborative, cross-system, and interagency initiatives including grant-funded efforts
Support and engage state agency participants in the Early Childhood Advisory Council, serve as staff liaison for the Interagency Collaboration Committee, and support or facilitate other cross-system early childhood and two-generation committees, working groups, and knowledge-sharing opportunities to ensure collaboration, alignment of resources and strategies, and when appropriate, cross-agency governance
Represent the ECAC on cross-agency and early childhood system-building committees, teams, and groups in-state and nationally. Solicit, monitor, and share resources, ideas, and best practices from national organizations, technical assistance providers, and funders with South Carolina's early childhood state system leaders and policymakers
In collaboration with research and communications staff, strategically develop and pursue opportunities that elevate South Carolina's early childhood and two-generation work on statewide, regional and national platforms
Oversee the development and implementation of projects and initiatives that build parental knowledge of and access to the early childhood state system (i.e., Palmetto Pre-K, First 5 SC, ECAC, AmeriCorps, etc.)
Plan and produce the SC Summit on Early Childhood and help develop and support other opportunities for knowledge-sharing and professional development across the early childhood state system
Ensure the voices of early childhood leaders and families impacted by the early childhood state system are solicited and heard through the development of a Family Voice Council, surveying of constituents, and statewide early childhood needs assessments
Ensure the legislatively-mandated responsibilities of the ECAC are accomplished and the ECAC is compliant with all requirements including reporting from the legislature, oversight bodies, and funders
Supervise and manage the Early Childhood Advisory Council team
A full position description can be found here.