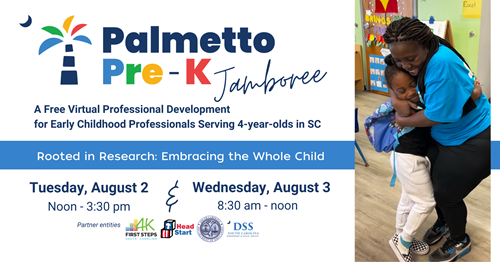 Join two half-days of empowering professional development (Tuesday, Aug. 2, noon - 3:30 p.m. & Wednesday, Aug. 3, 8:30 a.m. - noon) featuring nationally acclaimed speakers to better equip early educators to support South Carolina's youngest learners.


Any and all South Carolina pre-kindergarten teachers, support staff and administrators are invited to join the free, virtual professional development to increase your understanding and abilities to support young children. All attendees may qualify for SC DSS credit hours. Find the most up-to-date information on the Fall 2022 Jamboree webpage. (
https://earlychildhoodsc.org/.../palmetto-pre-k/fall-2022/
)

*For more information on the special sessions on documentation through Teaching Strategies, email Jamboree@scfirststeps.org.
**To attend this conference, simply make a reservation by completing this form, 
https://www.cognitoforms.com/.../_2022FallPalmettoPreKJam...
. An email with important information about the exciting day and links to register for the many different virtual sessions (via Zoom) will be sent on Thursday, July 28. **

The Palmetto Pre-K Jamboree is a collaboration between the SC Department of Education, Head Start, SC First Steps and the SC Department of Social Services and is supported by the Preschool Development Grant Birth through Five Initiative (PDG B-5), Grant Number 90TP0080-02-01, from the Office of Child Care, Administration for Children and Families, U.S. Department of Health and Human Services.