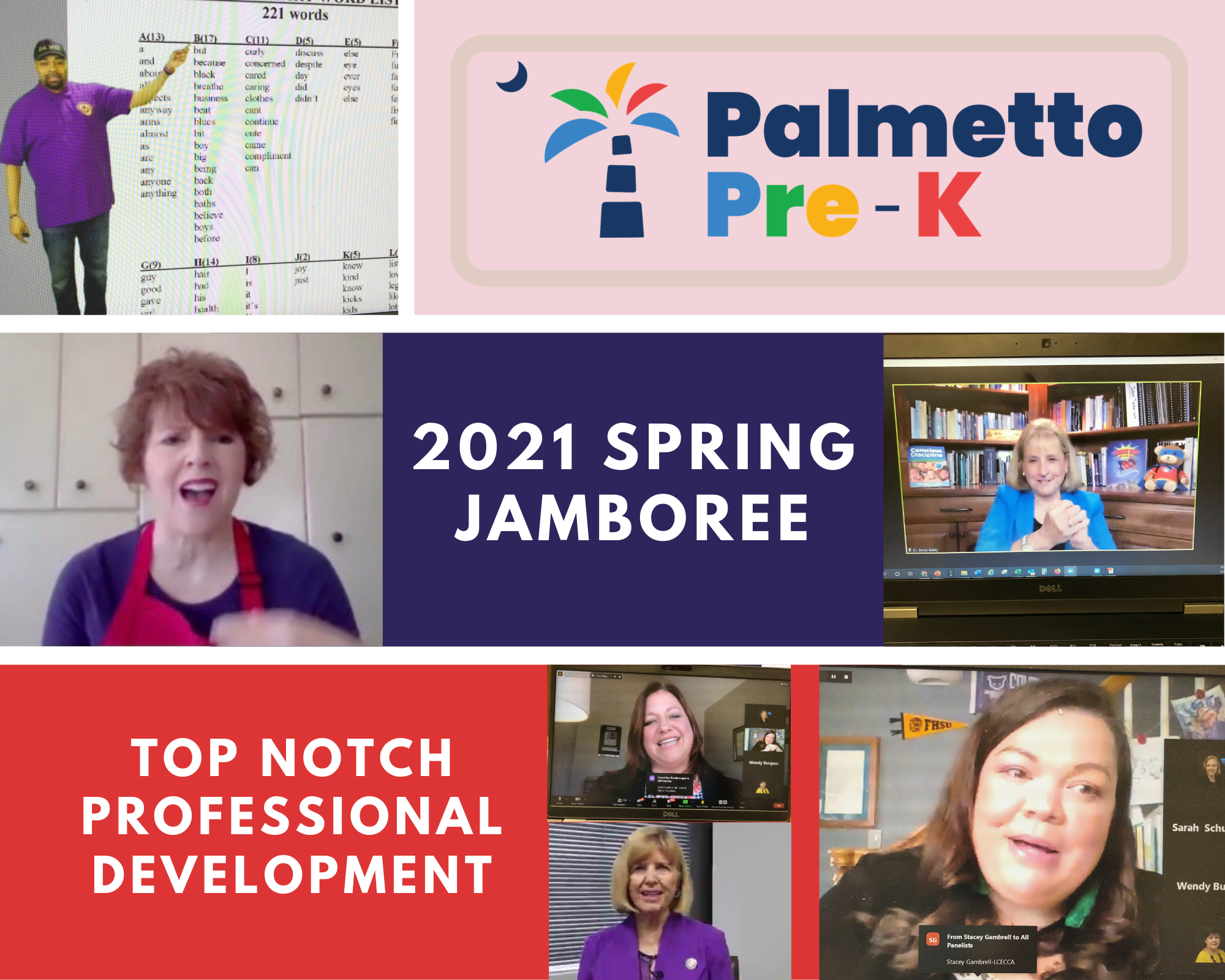 A very successful Palmetto Pre-K Jamboree was held Friday, March 5 with a whopping 1,300+ participants. First Steps 4K and the ECAC were heavily involved in the planning and production of the day. SC First Steps 4K Director Martha Strickland led the planning committee made of staff from the four Palmetto Pre-K partner agencies: FS4K, Head Start, SC Department of Education Office of Early Learning & Literacy, and Department of Social Services Early Care and Education. The 4K team was instrumental in the success of the day by serving as Zoom technical hosts, coordinating registration, and child care training credits. Early childhood educators from across the state enjoyed a full day of high-caliber professional development with four keynote presentations and 17 breakout options. Many sessions focused on children's social-emotional health, and some of the recordings are available to watch at Spring 2021 - ECAC (earlychildhoodsc.org).
Quotes from the chat box:
"This was great!! Love your messages and your energy!!" - reacting to L. Kobie Da Wiz's presentation on acceptance and cultivating community
"This is fantastic! The most informative PD on motor skills I have ever had in the last 25 years! Thank you for sharing your knowledge." - in response to keynoter Dr. Marianne Gibbs session on fine motor skills
"Dr. Bailey you are such a relevant voice especially during these troubling times." - from Dr. Becky Bailey's session on Conscious Discipline
"This was wonderful! Thank you for making others pay attention to Prek! It is so important." - on Tabatha Rosproy's inspiring takeaways from her reign as the 2020 National Teacher of the Year 
"This has been the best virtual event so far this year! Thank you!"